表 像
SURFACE
2015
拍摄时间2015,已结项。数码相机直接拍摄,非后期叠加。
A completed project created in 2015. Directly shot by digital camera, not PS.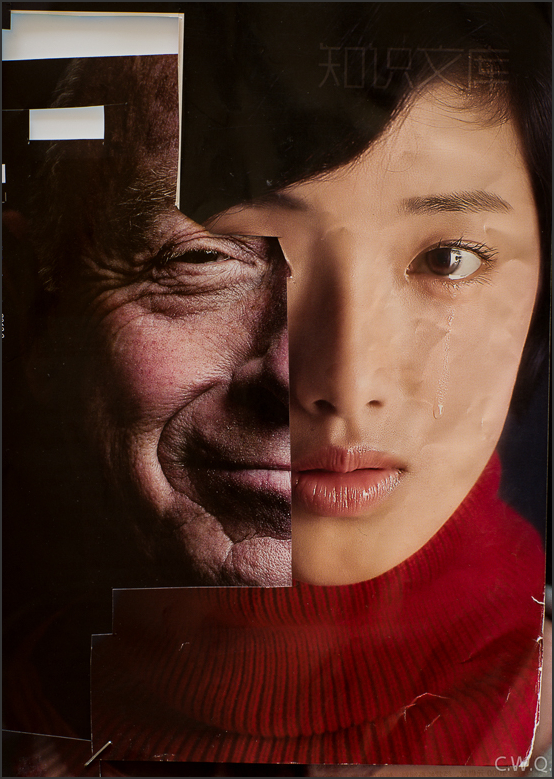 任何影像都有其欺骗性。我们认识和理解这个世界的方式已经被越来越多的碎片化的媒体和意识形态掠夺,并逐渐的失去自我的判断与思考能力。在达到一定积蓄后,人们接受事物与观念的能力不是增加而是会逐步下降并固封自我,形成自己的封闭认知与评价体系。然而在表面之下,还有一个受潜意识的本我主宰的反映系统,它隐蔽,且具有破坏力和创造力。#SURFACE#期望能够让这个封闭的穹顶破裂出一些缝隙。
All images are deceptive. Our way of knowing and understanding this world has been hijacked by more and more shredding media and ideologies, we are losing the capability of self judgment and independent thinking. When accumulating to certain extent, instead of increasing, the people's capability of accepting things and ideas will gradually decrease, even to the level of conceite so as to form a self-isolated cognition and evaluation system. However, under the SURFACE, there lies a reflecting system, dominated by the subconsciousness of the SELF; it is latent, destructive, yet, creative. The project of SURFACE expects to crack a silver lining on this sealed dome.
#SURFACE#通过对杂志彩页的截取、剪裁、留白、拼接、描画,连通粘合影像的正反两面。
在#SURFACE#里,每张照片实质都是三张图像,即:正反两面的图像及叠合后的图像。这些图像互相渗透,内容混杂,没有具体的边界,破除原上下文意义。
The project of SURFACE was created by corpping, tailoring, blanking, stitching, lining, connecting the front and back sides of the pages of color magazine pages.
In the works of project SURFACE, the essence of each photograph contains three images, being, the front side, the back side, and the blended image. These images permeate through each other, the content blend with each other, with no clear boarders, they break the original context.

#SURFACE#是关于态度的观看、关于模式的反刍、关于意义的逆思与探求。
The project SURFACE is a view of manner, a ruminating of pattern, a reverse thinking and exploration of meanings.